Archive for the 'Uncategorized' Category
I just discovered this box and I'm dying to try it! Who else subs to this? What do you think?
Emma & Chloé is a French subscription jewelry company created 3 years ago in Paris. We already have more than 7000 customers in France and we just released in the US! Emma & Chloé provides women with french fine designer jewelry delivered each month at their door for an affordable price. Our goal is to let our subscribers discover exclusive creations of French jewelry made by new, talented designers. We want to promote and reward the talent of these young, often-still-unknown designers whose pieces cost between $50 and $200. We want to offer a wide, quality choice of jewelry plus publish a trendy lifestyle magazine every month.
PRICE: $35/month Free Shipping to the US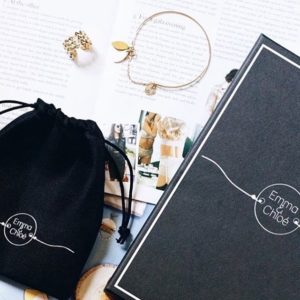 There may be affiliate links in this post.
Faithbox a Christian company that wants to help you strengthen your faith in God with our devotional and bring joy with great products from companies that do good.
We provide 3 meals to hungry kids for each Faithbox we ship!
Our original box is $20+5 sh/mo Cancel anytime. They also offer 3 mo and 1 year options with more savings.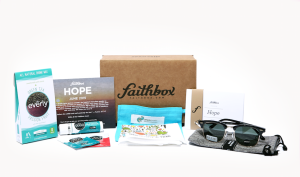 **NEW**
Faithbox launched a brand new product for kids and families – Faithbox Family is a brand new product from Faithbox that provides faith-based activities for kids ages 4-9.
Each box comes with an Activity Book with 3-4 activities and all the materials needed to complete them – plus Biblical lessons and prayers to accompany each activity. The theme for each month mirrors the Faithbox theme, but in a kid-friendly, fun way that's activity-based. To top it off, each Faithbox Family box provides three meals to hungry kids all over the world, so kids can not only learn about Jesus, but they'll be helping reach those most in need.
Faithbox Family hasn't officially launched yet, but we wanted to give our readers the chance to promote it ahead of launch – with 50% off for your audiences by using promo code FBFEarlySS! Our first boxes will ship the last week in August!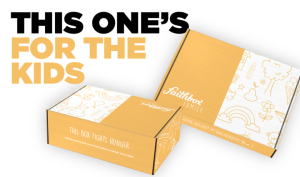 Save
There are affiliate links in this post.
Have you heard of Bestowed? Bestowed delivers healthy, delicious, nutritionist-approved snacks and treats to your home or office every month. I like the variety I get. This is one of my guilt free subscriptions.
Right now, members can receive 50% OFF their first box when they order a 1-month recurring subscription or get their first box FREE when ordering a 3, 6 or 12-month subscription. USE COUPON CODE: TRIAL
Monthly $20
3 Mo $18/month – 10% savings + FREE BOX
6 Mo $17/month – 15% savings. + FREE BOX
12 Mo $16/month – 20% savings. +FREE BOX
Now through Monday, use coupon code FEVERSALE19 to save 50% off your first month of Adore Me! (That makes your first lingerie, sleepwear, etc. set only $19.95 with free shipping).
Shop Now for 50% off your first set of lingerie!
*This post contains affiliate links. MizD
As I've posted before I'd had a rough 2015 and my blogs (I have a few) kind of died. I'm currently in the process of Changing the name and redoing a few things. I have SO many posts that are drafted, but I'm waiting on updates before I publish them. I apologize in advance that many of the posts will be from boxes I got over the summer. They are from companies that graciously sent me a free one for review purposes and I fully intend on honoring that.
I'm so excited for the changes and being back on the blogging adventure. I've missed sharing all the wonderful boxes I've discovered. It's amazing how much the industry has grown since I got my first Allure and GlossyBox.
~MizD
Hello Bliss Merry Bliss-Mas Box
Featured artisan brand partners from around the country
3-5 lifestyle items from skincare, candles, edibles, jewelry & more
Ships within 3 business days
Add a gift note in the "order notes" section at checkout!
PRICE: $29.95
I've been wanting to write this post for weeks. I kept talking myself out of it. I would be too tired, distracted, bitchy or weepy. I kept telling myself that nobody reads this blog anyway.
When I started (for fun) subscribing, boxes weren't a huge thing to my knowledge. Then BOOM, they exploded. As you know there is a subscription/sample box for ANYTHING your little heart desires. If not, I'm sure it will come out soon enough.  I became addicted. I've always loved snail mail. Being a couponer/freebie hunter and now subscription box junkie it was Christmas & my Birthday everyday. OH my family hated me. My mail, carriers love and hate me. Job security, but aching backs and feet.
My ever loving and patient boyfriend suggested I start a blog. I loved the idea of sharing all the amazing stuff I got. We both though maybe I'd make some extra money so I can feed the addiction and still feed my cats. Cutting down on subs was never an option. We both knew me too well.
I wasn't new to blogs. I have a www.MizCouponista.com and it does ok. When I post on my cat blog Purrsandhissses I get feedback. This one isn't on anyone's bookmark though. At first I started getting blog envy. Why wasn't I blowing up like others? Why wasn't I getting freebies and comments? I snapped out of it because after all I started this blog for myself. I've never been comfortable with attention anyway.
I started feeling overwhelmed though. Not just with blogging, but with many things. I continued to unbox and share my pictures on Instagram/Twitter/Facebook. I thought it was enough. It really wasn't. I'm still a small blog, but I do get a bit more attention. Many of the boxes I got where given to me by the trusting and wonderful owners for review. YAY FINALLY! BUT, by not reviewing/sharing, I was cheating them. I guess you could look it at like theft as well. With that always on my mind it seemed like the more I tried to do reviews the more I couldn't. I had no joy for my once beloved boxes. Blogging felt like a chore. I got bored, burnt out and overwhelmed with clutter. I felt like a hoarder. I felt like a fraud.
I have PTSD, I'm clinically depressed and slightly manic. I controlled it for years, but now it started controlling me. Anytime I was away from my house I would become physically ill. Migraines and vomiting, along with bowel issues plagued me. Fear and anxiety consumed me. That's not all….
Mac, my cat, had the nerve to let his kidney fail and he died. In the beginning of April we noticed he wasn't himself. A few weeks later he was gone. Just like that. I'm still in shock.  I've lost a few pets in my life, but I was young and though it was sad, it was  something I just shrugged off. Not with Mac. He was my baby boy. He along with his 3 sisters and brother are the longest I've REALLY had a "pet".  They are my spoiled rotten, love more than life, children.
My absences from work were raising flags and I got called into my bosses' office. Thankfully when I have my head out of my arse I am good at my job and I have longevity. He fought with human resources to keep me. I'm on probation, but still employeed.
My doctor is finally listening to me. I'm off the handful of medication that stopped working and on ONE that so far is, we'll say, looking positive.
Final note. The next few boxes are old  boxes, June, July, August boxes. There were given to to me for review purposes.  I need to hold up my end of the deal and review them.
MizD
There are affiliate links in this post.
NatureBox "delivers a world of carefully sourced and nutritionist-approved foods right to your door. Each snack contains wholesome ingredients – with no artificial sweeteners, flavors or colors. Snacking has never been so deliciously fun and naturally easy."
PRICE: $19.95/month with multiple month options. Includes free shipping.
FREE Trial/Sampler: If you're not sure you want to subscribe they are currently offering a free trial of sampler bags. You get 1 full size bag of snacks, and 4 trial-size bags Just pay $2 for shipping. NOTE: This will roll into a monthly sub if you don't cancel after your shipment.
COUPON: Click the banner at the end of this post to save $5 on your first box. HURRY this is for a limited time.
Here are the 5 treats I got in the deluxe package.
Dark Chocolate Berry Trail Mix ~ Dark Chocolate Chips,  Cranberries, Pumpkin Seeds, Raisins, Dry Roasted Almonds, Sunflower Seeds, Dry Roasted Cashews, Organic Roasted Soy Nuts, Cherries, Pistachios, and Blueberries.
I got this last month and loved it. I had hoped to get it again and I did!
Dark Chocolate Pretzel Pops ~ Another repeat from last month that I'm totally happy about.
Cranberry Almond Bites ~ Oven Baked Almonds, Cane Sugar, Rice Syrup, Dried Cranberries, Crispy Rice, Brown Rice, White Rice, Palm Oil, Natural Flavor, Sea Salt, Guar Gum.  VERY tasty. Like granola bites.
Whole Wheat Blueberry Figgy Bars ~ Nutrient-rich blueberries and figs come together in a chewy bar that goes perfectly with your morning coffee or your afternoon tea! They come individually wrapped so they'€™re easy to share and even easier to pack.
Whole Wheat Raspberry Figgy Bars ~ Same as above but with raspberries. These are my favorite.
This month's box was another win. All of these snacks are going in my work locker. They will be perfect for a mid-shift snack. Healthier than candy or chips!
I paid for this box. All opinions are my own. MizD
I was given this box a few months ago for review purposes. I have no idea how I misplaced it and forgot to review. Better late than never though, right?
BuddhiBox is a subscription box inspired by  yoga and healthy living. Each month you'll receive 4-6 full sized products to assist in your yoga practice, as well as everyday life. All products are from ethical, socially conscious companies and a portion of all boxes sold is donated to a different non-profit organization every month.
PRICE: $30.95 with 6 & 12 month options.
I also misplaced my card but after some digging I found this was February's box.
Shiva Prayer Scarf ($20) The backdrop of this picture is a beautiful scarf that was included in the box.
Solar Plexas Chakra ($22) I got Tigers Eye which promotes Luck, Protection & Healing. It's a beautiful stone on a leather cord.
Soul Sparks Karma Bracelet ($4) This is to keep your circle positive. Say good words, think good thoughts and do good deeds.  The cord is a regular wax one.
House of Good Juju Aura Cleansing Tea Light ($2.50) This is used to "cleanse your aura".  It's infused with cypress, lavender, rosemary, lemongrass, and other fabulous scents. Sprinkled on top are additional herbs, as well as various crystals.
Kiss My Honey ~ Organic Lip Balm in Chocolate ($4)  An all natural, paraben-free lip balm made with organic coconut oil, vitamin E, and other super moisturizing ingredients. UH don't tell, but it tastes yummy too. 🙂
Chuao Chocolatier~  ChocoPods ($2) My flavors were Spicy Maya & Potato chip. I skipped the spicy one, giving it to a coworker who will eat ANYTHING. He loved it. I'm indifferent about the Potato chip one.
This was an interesting box I must say. My favorite item is the scarf. I am beyond grateful that they sent me this box free to review. This is such a tiny blog I need all the assistance I can get, in the form of interesting boxes to review.
Though this box was free, all opinions are my own. MizD