Posts Tagged 'moisturizer'
Pearlesque Box® is a luxe monthly subscription box that focuses on natural beauty. They only feature products that are high quality, non-toxic, organic, and contain all natural ingredients.
PRICE: $39.95 per month. Auto renews. Shipping is free in the US
COUPON: Use DENISE15 to get 15% off your first box!
PRODUCTS: Each month, there will be a minimum of 1-2 full-size products from around the world. The box may include natural skincare and/or body care. One brand will be featured each month.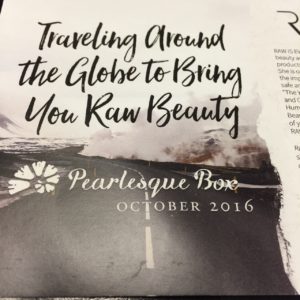 This month we are introduced to Raw Is Everything.
RAW IS EVERYTHING founder Jessica Assaf has been a beauty activist for the past ten years advocating for safer products and stricter regulations protecting our health. She is on a lifelong mission to educate consumers about the importance of product safety and discover the best safe and effective products. Her story has been featured in "The Young Activist's Guide to Building a Green Movement and Changing the World," and the documentary, "The Human Experiment." Jessica started the clean beauty blog, Beauty Lies Truth, with Alexis Krauss to build a movement of young women passionate about beauty and health. RAW IS EVERYTHING is her contribution to the movement.

RAW IS EVERYTHING is the first line of single-ingredient skincare. Jessica searched the globe to find the highest quality and most powerful ingredients extracted from plants that stand alone. She found oils that have been ancient beauty secrets for centuries but have never been available to the modern consumer in their purest form. RAW IS Everything's four premier facial oils are cold pressed, unrefined, and sourced sustainably from communities around the world. The products are shielded in custom-coated dark glass to protect the oils against sun and heat damage. It is RAW's mission to help women and men find the best single-ingredients for their skin.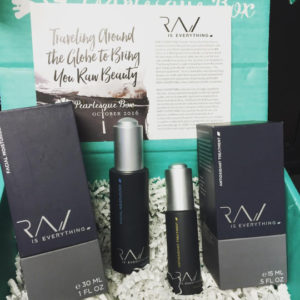 Facial Moisturizer ~ Full Size 1 fl oz $55
Main ingredient: 100% unrefined, cold pressed, wild-crafted passionfruit seed oil. Native to the Amazon and extracted from the seeds of the passionfruit, this oil has been used for centuries as a powerful moisturizing emollient. It moisturizes, replenishes and balances.
Antioxidant Treatment ~ Full Size 5fl oz $45
Main ingredient: 100% unrefined, cold pressed, sustain-ably farmed raspberry seed oil. Native to Europe, this antioxidant oil has been used as a natural remedy for centuries by the civilizations of Greece, Rome and Anatolia to protect skin against free radicals caused by exposure to sunlight and environmental toxins.
**The card explains that exposure to light and heat will quickly damage the oils so their bottles are uniquely coated to prevent exposure to visible and ultraviolet spectrum of light. It's also to minimize heat absorption. WOW!
I am already using both products. I'm not a fan of passionfruit, but the way my skin feels is changing my mind. It's only been 3 days but I'm already fascinated with how smooth my cheeks and neck are. Why have I not heard about this company before!
Is anyone else getting this box? Have you used these products? What are your results so far?
Miz D