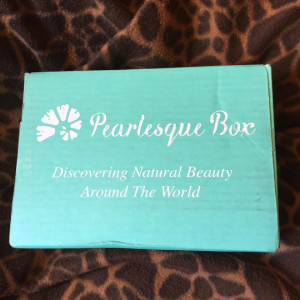 Pearlesque Box® is a luxe monthly subscription box that focuses on natural beauty. They only feature products that are high quality, non-toxic, organic, and contain all natural ingredients.
PRICE: $39.95 per month. Auto renews. Shipping is free in the US
COUPON: Use DENISE15 to get 15% off your first box!
PRODUCTS: Each month, there will be a minimum of 1-2 full-size products and 1-3 travel-size products from around the world. The box may include natural skincare and/or body care. One brand will be featured each month.
June's theme is "Your Summer Essentials" and the featured company, Farmaesthetics, is out of  Rhode Island.   With an enduring commitment to "Sustainable Beauty", founder and formulator Brenda Brock commits to skincare products that are 100% natural, utilizing time-honored recipes for skin health, and certified organic herbs, flowers, oils and grains from American family farms.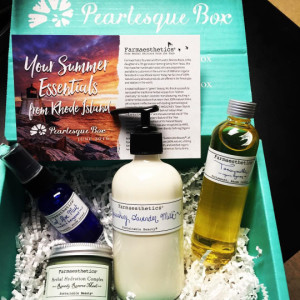 Nourishing Lavender Milk ~ Full-Size, $39 – 8oz
This  light, luscious, all-over complexion lotion, is gentle enough for everyday use on the face, yet powerful enough to use on even the driest skin conditions. Its vibrant, clean, natural fragrance is addictive, and its skin-mending properties are undeniable.
Ingredients: soy oil*, calendula, witch hazel, lavender essential oil, beeswax, lecithin, borax & xantham gum (* indicates certified organic ingredients)
BTW I'm on a lavender kick right now so I'm loving this milk!
Cool Aloe Mist ~ Travel Size, $12 1oz
This simple aloe preparation is a multi-purpose product to restore and protect the skin. Nothing heals or relieves inflamed tissue better than aloe vera and whether from sun-exposure, burns, or exposure to radiation (such as in medical treatments or laser surgery), our Cool Aloe Mist will offer instant relief as well as prevent further drying, peeling, flaking or toughening of skin tissue. Also a noted remedy for hot flashes, this herbal preparation provides immediate relief for the discomforts of hormones in flux.
Ingredients: aloe vera juice, witch hazel, lavender essential oil, bergamot essential oil & lecithin.
Herbal Hydration Complex Remedy Reserve Mask ~  Full-sized $50 2oz
This Herbal Hydration Complex is an advanced, preventative, high level treatment mask (somewhere between a luscious mousse and a cooling gel) to restore, support and maintain proper moisture levels, while eliminating excess oil and boosting skin's defense mechanisms against environmental damage. Use when skin is inflamed, irritated or imbalanced, or simply to treat skin to a calming, beautifying natural reprieve while bathing tissue in healing herbal moisture. THIS MASK IS AMAZING!!
Ingredients: shea butter*, natural beeswax, soybean oil*, witch hazel*, l-arginine, natural lactic acid (from fermented sugarcane), chlorophyll, oatmeal, aloe vera, vegetable glycerin, xanthan gum, peppermint & lavender essential oils (* indicates certified organic ingredient)
Tansynella Organic Bugscreen ~ Full-sized $18 4 oz
Tansynella is a 100% natural, highly effective, organic specialty oil for use in bath & on body to repel insects while moisturizing skin.
Apply Tansynella directly to body to ward off insects, mosquitoes & black flies.  Reapply after swim or excessive perspiration to keep the shield of protection in place. Add a few drops to sunscreen, body lotion, oils or spritzes to enhance repellant benefits. Still not sure of the smell, but it did keep buzzing things away from me.
Ingredients: sunflower oil*, tansy*, eucalyptus citriodora, citronella*, eucalyptus & rosemary essential oils, vitamin e (* indicates certified organic ingredient)
Farmaestheics offers amazing products. I was lucky enough to get another product of theirs via another subscription box.
This month's total value is $119. Remember to use DENISE15 to get 15% off your first box!
~MizD

Disclosure: Some of the links in the post above are affiliate links. This means that if you click on the link and purchase the item I will receive an affiliate commission. Regardless, I only recommend products or services I use personally and believe can add value to my readers. Read my full disclosure policy here.